A Soccer Player from Uruguay Bit an Italian Player on the Shoulder . . . And He's Done It Twice Before [Video]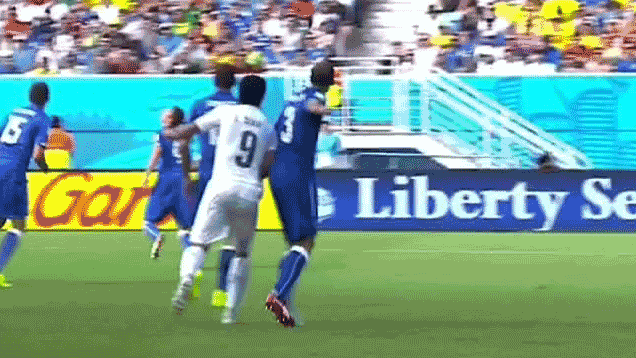 A soccer player from Uruguay named Luis Suarez BIT an Italian player on the shoulder yesterday during the World Cup. And this isn't even the first time he's done it. His nickname in Europe is the "Cannibal", because he's bitten TWO other players.
He was suspended for 10 games last year for biting a guy on the arm. And in 2010, he was suspended seven games for biting a guy's NECK


Uruguay ended up winning and moving to the knock-out round. After the match, Suarez claimed that he accidentally bumped into the guy with his teeth . . . which is a lie.
It's still not clear if he'll be allowed to play in their next game on Saturday . . . his penalty will be announced some time before then. If he's not, it would be a big deal for Uruguay, because he's their best player.
Someone who has EXPERIENCE with biting commented on it afterward. EVANDER HOLYFIELD sent out a tweet that said, quote, "I guess ANY part of the body is up for eating."

Kane is joined by co-hosts Riley, Rose, Intern John and producer Erick. The high-energy, fast-paced program features music, conversations on the latest news and hot topics, Hollywood news, contests, call-in interaction with listeners, plus interviews with the biggest celebrities in music and pop culture. The show features signature segments such as "War of the Roses," "Hollywood," "The Tea," "John's Justice," "Ghosted" and "Moron Madness."
Kane Cares! We'd love to hear about your event or organization. Use this link to send us your information!